Roadwire Leather Kits/Colors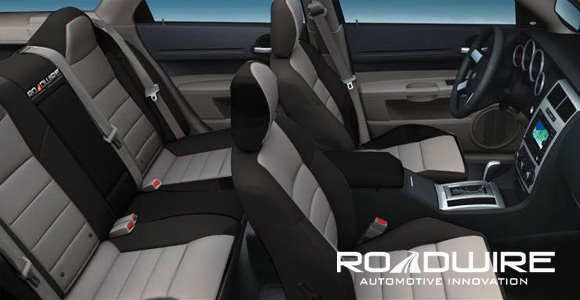 We offer a full line up with different styles and inlays with various material and custom color options please call store for a quote today!!
Professional Installation

Installation is INCLUDED in the full retail price for all our leather kits.
Why include installation?
Replacing your upholstery is not an easy task. Unfortunately, not even vehicle experts can do the job right. It takes years of experience installing leather interiors to develop the expert skills needed to get that OEM look and feel we all want. We could fill pages with pictures of cases where people have tried to have their leather interiors installed by local shops (or even themselves) which turned out horribly bad. In fact, most of our installation centers end up fixing those messes themselves on a daily basis. Look around on the web and you'll see Roadwire is the only company offering installation with their leather kits for retail customers. Why? Because we know how important installation is for leather upholstery, and we are the only ones that have decades of experience in the business and the network of certified installation centers to be able to bring this offer directly to the consumer.

IMPORTANT: if you're a retail customer, the price quoted for our leather kits INCLUDES INSTALLATION! Installing leather seats is a job for professionals, so we make it easy to find an installer near you with our partnership with InstallerNet. After your order is completed, you'll receive an email with a personal installation number and a link to our easy-to-use installer locator. For more information on our installation program for retail customers, click here. Adding leather to your car's interior is a fantastic way to add value and pleasure to your driving experience. Roadwire is the world leader in leather interiors with top-quality materials, a 3 year/36,000 mile warranty, and the biggest selection of available patterns. Please click on a make below to help you find the best fit for your car, and give availability information.The web page also will recommend the ideal color to match your car's interior. Unleash your creativity by choosing options such as two-toned leather color combinations, contrast thread, piping, or perforation. Pick and choose the exact details you want. Whether it's a factory leather look or a style that fits your unique personality, the choice is yours!

LEATHER KIT COLOR OPTIONS WITH ROADWIRE INNOVATIONS